Moscow doctors are fighting to save the Bolshoi Ballet director Sergei Filin's sight after he was attacked with acid outside his home late last night by a masked assailant. The assault is being linked to vicious internal theatre politics.
Filin was attacked when he returned home after a gala, receiving third-degree burns to his face and eyes. While his life was said not to be in danger, his eyes were severely burned, and the Bolshoi's head of communications Ekaterina Novikova reported that it was feared it could take six months to recover his sight.
The Moscow police are treating it as a criminal matter, she said, adding: "It is probably carried out by people who want to replace him in the Bolshoi leadership."
The attack came after months of threats, including his tyres being slashed and menacing phone calls to his home, she said. Filin's Facebook page had been seized at one point by ill-wishers, but until now it had not been possible to report the hate campaign as crime.
According to his wife, the Bolshoi dancer Maria Prorvich, the telephone threats had been mounting in the past month. She said: "I now fear for his life, even for those of our children."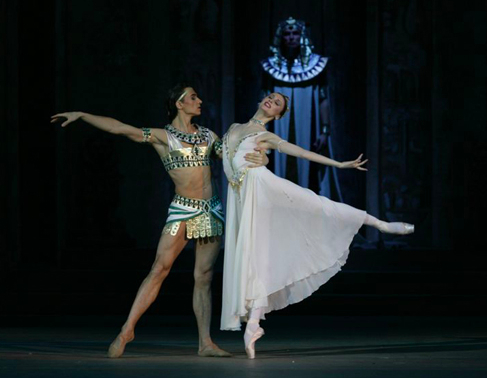 Filin's mother Natalia Filina said last night that she knew who was responsible and she would report his name to police and authorities. The assailant had lain in wait outside Filin's Moscow house and thrown a liquid into his face.
His condition was said last night to be serious, though not life-threatening. Doctors' priority was to save his eyes.
Filin, 43, a former star dancer with the Bolshoi (pictured left with Svetlana Zakharova, © Bolshoi Ballet), was appointed director less than two years ago amid fierce rivalries for the leadership of the famous ballet company. The Bolshoi is due to visit London this summer to perform a three-week season at the Royal Opera House, the first under his directorship.
Factions have emerged strenuously supporting or opposing the longtime Soviet-era ballet director Yuri Grigorovich (pictured below), who ran the Bolshoi for 30 years through the Cold War and beyond, and despite being dismissed in 1995 succeeded in returning to effective control of the company's artistic policy in 2008.
Just turned 86, he remains the iron man with almost god-like status for his supporters, who include many veteran Bolshoi coaches and some celebrated dance stars. In a country where ballet has unimaginable clout and glamour in political and business circles, differences go well beyond polite artistic debate. They are characterised as nationalistic, political, even historic, pitting reactionaries against progressives, true Russians against decadent Westernisers.
Filin is the third victim of extraordinary misfortune among Bolshoi leaders recently, though this is the first criminal attack reported. Just before his appointment another candidate for the directorship, the company manager, Gennady Yanin, was fired after being embroiled in an internet porn scandal, which some claimed was a set-up by rivals.
Meanwhile Grigorovich supporters were accused of hounding out the progressive director and choreographer Alexei Ratmansky, an exceptionally popular figure on the world scene who was seen as guiding the hidebound Bolshoi out of its perception as a relic of Soviet times to a creative company of top rank during his five-year tenure. When Ratmansky resigned and moved to New York in 2009, taking up a senior position as choreographer with the American Ballet Theatre, a period of uncertain leadership followed as the camps drew lines.
Despite Filin's appointment, rumours remained that the old guard were effectively still in charge, and these appeared confirmed when in 2011 the Bolshoi's most celebrated young stars Natalia Osipova and Ivan Vasiliev quit the company claiming that their performances were being restricted, and moved to St Petersburg's Mikhailovsky Ballet. In March the pair are to head the Mikhailovsky's London tour, but Filin had announced that they will also be guest stars on the Bolshoi's summer tour at Covent Garden.
Filin's appointment was widely welcomed within the company, as well as abroad, where he was seen as a sign of progress within the Kremlin's home company.
However, the charismatic Bolshoi star Nikolai Tsiskaridze, a Grigorovich disciple, was vocal in his opposition to Filin and what he considered kowtowing to an inferior West, and the atmosphere had recently reached fever pitch.
The flamboyant Tsiskaridze, 39, who has described himself as the world's greatest dancer and is a popular television host in Russia, has said that Filin tried to limit his teaching and roles at the Bolshoi. He told a newspaper last summer that although he retained his salary there he was treated as anti-establishment opposition. He described the atmosphere within the Bolshoi as Darwinian – "if you don't eat them, they'll eat you," he said.
Last night Filin was said to have been visited by his wife and mother and by large numbers of Bolshoi dancers. Who was behind the attack will be the first question. Another will be who should run the company while he recovers. There will also surely be mounting calls in the theatre to deal with the appalling animosities that in recent years have made the Bolshoi more famous for scandal than for dancing.
Related Articles
Share
About Author
(0) Readers Comments